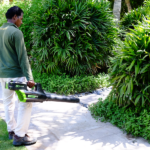 Landscape Maintenance For Hotels and Resorts
August 13, 2023
With a name like Pythium blight, it's no surprise this turf disease is one that strikes fear into lawn care operators.
"It's a name that certainly catches your attention," says Lane Tredway, Ph.D., technical services manager for Syngenta. "(Pythium blight) can destroy a significant portion of a landscape within a few days. So, it's crucial to catch it very early and treat it immediately when observed on those susceptible turf species."
Tredway and Brian Aynardi, Ph.D., Northeast research scientist for PBI-Gordon, share tips for identifying and treating Pythium blight.
Identification
Lawn care operators (LCOs) who manage cool-season grasses, like ryegrass and bluegrass, are most likely to see Pythium blight.
A specific set of conditions must be present for Pythium blight to gain a foothold on a customer's lawn, Tredway says. Those conditions include nighttime temperatures consistently above 65 degrees F and high humidity, leading to prolonged periods of wet turf.
"If you get that for one night, it doesn't mean you're going to have a massive outbreak," says Aynardi. "Typically, when you see those conditions continue for several days you've got to keep an eye out for (Pythium blight)."
Pythium blight, Tredway says, is most active in the evening on days when the right environmental conditions of high temperatures, high humidity, and turf wetness are present.
"Say there's an afternoon thunderstorm on a hot and humid day," he says. "If those leaves stay wet for at least 14 hours and the temperature stays warm at night, that's a perfect recipe for a Pythium blight outbreak."
Confirmation
LCOs can occasionally confuse Pythium blight with other common turf diseases, like brown patch, gray leaf spot or dollar spots. The potential wide-scale turf destruction that comes with Pythium blight makes quick and correct identification critical.
"With Pythium blight, you won't see any distinct leaf spots or lesions on the leaves," Tredway says. "It causes very rapid dieback of entire leaves. Those blighted leaves will initially turn a dark gray to a black color and have a greasy or oily appearance."
As the disease progresses, Tredway says the turf will show an orange or brown coloration as it collapses.
Aynardi adds that the presence of mycelium is another potential trip up for LCOs when misdiagnosing Pythium blight as a dollar spot.
"Sometimes, people will see that cottony growth (mycelium) and think, 'Oh, that's just dollar spot,'" he says. "But you'll also see that with Pythium blight. It will start small, around the size of your fist, in areas of higher-cut turf."
He reinforces that the best way to know if the disease is blight or dollar spot is to feel the turf. An oily, greasy texture means you're dealing with Pythium blight.
Prevention and Control
Pythium management often requires separate chemical applications because the disease is different from other fungi LCOs deal with.
According to Tredway, the other way to imagine the difference between fungi and Pythium is to imagine Pythium as more of a primitive form of fungus. Even though both produce mycelium, he adds, some of the fungicides LCOs often use do not affect Pythium.
Cyazofamid and azoxystrobin are a pair of active ingredients Aynardi and Tredway recommend to control the disease. Applications of those two fungicides should be preventive, Aynardi adds.
"Make those applications a day or two before those environmental conditions are set to happen," he says. "If you need to make further applications, it should be at a shorter interval, like 14 days. (I recommend) staying at the lower label rate, and applying more frequently, rather than applying at the higher rate and hoping it holds until those conditions are present."
This article is tagged with July 2023, PBI-Gordon, pythium, Syngenta, turf diseases and posted in Current Issue, Featured, From the Magazine, Turf+Ornamental Care